Cannabidiol (CBD)
There are plenty of CBD tinctures and oils out there in the market these days, but it's important to know that not all of them are made the same, or created equal. Our edibles, topicals, capeables, sublinguals, pet CBD, and beverages are specifically picked by our crew at Smoke Envy in Houston, TX.
Raw Products
Our Raw products are our locals favorite brands, so much so that we have been featured in the Raw magazine before. From papers, to grinders, to trays, our Raw products are always stocked and ready to be purchased at an affordable price in Houston, TX.
Glass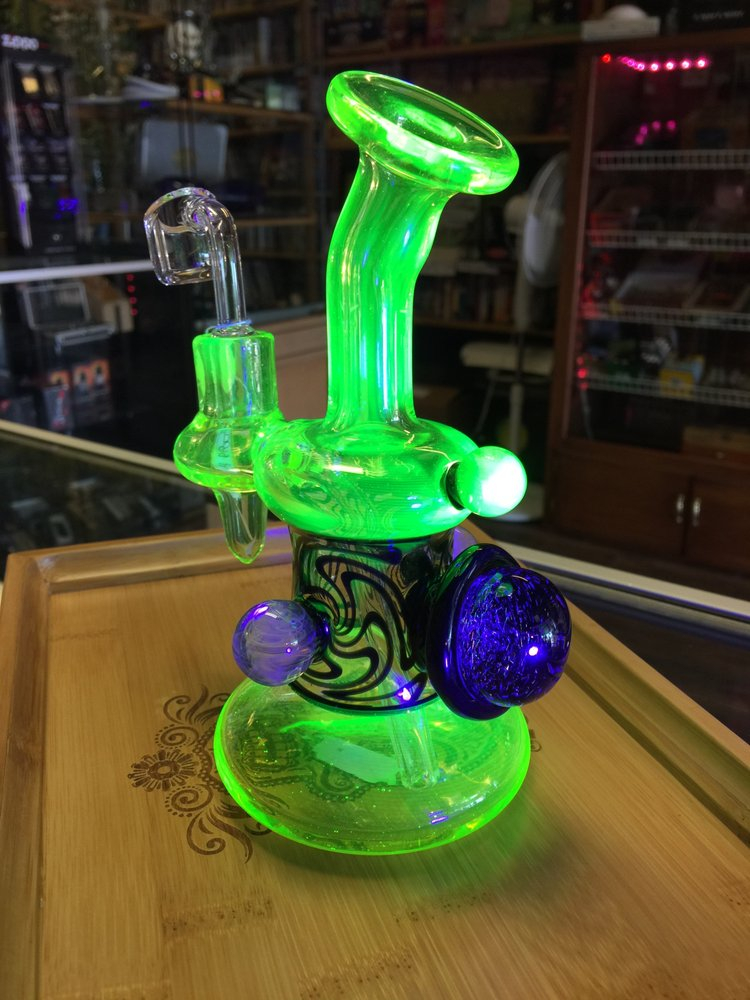 We take pride in our variety of glass products. From rigs, american glass, water pipes, sherlocks, to chillum, our staff is happy to help you through your next glass purchase. We support our local artists by selling their work to our loyal customers like you. So come in today and look through our wide range of glass products in Houston, TX.
Fine Cigars & Tobacco
For the finest cigars in Houston, TX, come in and visit our team today. Our cigars, humadors, cutters, and ashtrays are all quality and dependable for a good time, a smooth flavor, and a quality experience. Come in today and browse our large cigar and tobacco product selection.
Vape Accesssories & Devices
With vaping being one of the most popular forms of smoking these days, we're always on top of our restocks. We have a variety of vape kits, juices, devices, coils and parts, vape batteries, and cartridge batteries. So stop in any time and have a chat with one of our professionals about what vape device and accessory is best for you and your budget.
Hookah
For a cooler smoke sesh, all of our hookahs, tobacco shisha, hemp shisha, and charcoal are stocked and ready to be bought at Smoke Envy in Houston, TX. Ask any one of our staff about our hookah products and expect for only knowledgeable, honest, and reliable answers. Your complete satisfaction is always our number one priority.
Hemp Flower
All of our hemp flower products are loaded with phytocannabinoids and terpenes so to give you the best nature can offer. We have many strains that can be bought in grams, quarters, ounces, pounds, or prerolls. Give us a call today to learn more about any and all of our hemp flower products.
Wraps and Papers
You can trust Smoke Envy with all of your wraps and paper needs. The base of any rolled cigarette, blunt, or joint is found in the quality of the rolling paper. Our large variety of papers and wraps will leave you impressed. We sell, but are not limited to, Raw, elements, zigzag, juicy j's, ocb, empire rolling papers, and urban wraps. So stop by today and purchase the finest rolling wraps and papers in all of Houston, TX.
Kratom
Kratom is a tropical tree related to the coffee family. It is indigenous to many popular Southeast Asian Countries. It has become standard in many traditional medicines since the late nineteenth century. It has several stimulant-like and opioid effects. We sell by milligram capsules or by powder weight. Stop by either of our shops in Houstin, TX, today to learn more about our kratom products that include, but are not limited to: green super magenda, green malay, green bali, green thai, green sumatra, red dragon, red horn, red bali, red thai, red super magenda, white bali, white thai, white horn, white magenda, and yellow.
Apparel
Come in for all your smoking needs, and leave in the freshest apparel around. From t-shirts to hats to scarves, our shop has the comfiest and most stylish Smoke Envy apparel in all of Houston, TX.
Come & Visit Smoke Envy Houston!
2524 Yale Street #2 Houston, TX 77008 USA
18123 Egret Bay Blvd, Houston, TX 77053 USA